Click to view photo gallery
DryRapid
Description
Wherever dry feed, be it mash, crumbles or pellets, has to be conveyed or distributed on a pig farm, Big Dutchman's DryRapid is the ideal feed transport system from the silo discharge all the way to the feed trough.
This efficient pipe conveying system is available in two models: the DR 850, with a conveying capacity of approximately 1900 lbs/h, or the DR 1500, with a capacity of approximately 3500 lbs/h. DryRapid can be controlled automatically using control unit 103 or with our management and control system BigFarmNet when applied with a DryExact Pro or EcoMatic Pro feeding system.
For large amounts of cereal and feed we can additionally offer the DR 4500 with a conveying capacity of 9920 lbs/h.
Versatile options for using DryRapid
In a sow house: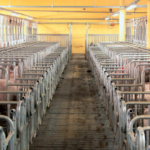 Individual sow feeding with volume dispensers
Supplies the ESF Systems for pregnant sows that are kept in groups
In a nursery or finishing house: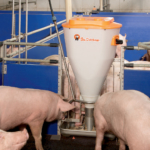 Supplies all types of self-feeders
Supplies the DryExactPro and EcoMaticPro computer controlled dry feeding systems
Computer-Controlled Dry Feeding with BigFarmNet
With EcoMatic Pro and DryExact Pro, Big Dutchman offers you two computer-controlled dry feeding systems, which ideally comply with the requirements of modern pig feeding. Using BigFarmNet management software, both systems allow you to supply feed at the individual valves, one by volume, and the other by weight. The pneumatic feed valve ensures that every feeder receives the right feed quantity.
Features
DryRapid can be installed in many different configurations and is suited for the modernization of old barns
The filling level can be adjusted separately at all feeders by means of a telescopic drop pipe
Available as a computerized feed-system, DryExact
High conveying capacity
Smooth transport of pellets with minimum damage of feed structure
Low maintenance requirements, long service life
Videos