Click to view photo gallery
TriSort Pro
Description
With Big Dutchman's automatic sorting scale TriSortPro, finishing pigs kept in large groups- with an optimum number of 250 to 400 pigs per group- can be sorted based on their individual weight. Among other things, this helps to determine the exact number and weight of ready-to-process pigs, which in turn assists with the planning of the processing date. The pigs delivered to processing precisely match the processing criteria; pigs weighing more or less than required for processing are a thing of the past helping you increase yield and reduce feed costs.
Another potential use is in partial finishing up to a certain weight. With the TriSortPro you can easily monitor these pigs weights as they grow and you can utilize your house more efficiently. Thanks to precise weight data, each feeding area can be supplied with an individual feed type and over- or under-weight pigs can be marked with two different colors.
Features
Permanent weight monitoring of all pigs, providing information about daily weight gains
Information on the health of your pigs is available at any time
Use color marking to select under- or over-weight pigs
Gives you the ability to use weight adjusted feeding
ready-to-process pigs can be selected easily without stress before being taken to processing
Precise information about the ideal processing time for your pigs based on weight
Less time required for loading of pigs
Integration With BigFarmNet
Big Dutchman's BigFarmNet management software allows for constant data collection, monitoring and control of all connected sorting scales in real time. Each TriSortPro is managed by a control unit characterized by a clearly arranged display which presents all important information including current weights. The control unit does not need to be installed directly at the sorting scale but can also be installed in the aisle, facilitating access to it, in an animal-free area. In addition to the control unit, it is possible to connect a separate computer placed wherever it is most convenient for you, such as in a farm office or the farm managers house. These computers will communicate in real-time. Producers using TriSortPro with BigFarmNet technology will always be up-to-date with their latest stock records, thanks to the graphic display of all house-related data and results.
BigFarmNet Will Tell You:
Weight distributions on the current and previous day
Determination of sorting thresholds (in percentages)
Scale's visiting frequency
Prediction of the date on which a select number of pigs will reach a specific target weight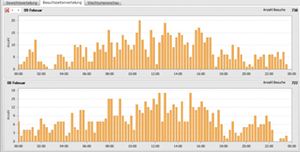 Graphic display of the scale's visiting frequency

Graphic display of weight distribution
Sorting out mode
Graphic display of weight gain prediction
Videos