Click to view photo gallery
FlexVey Auger fill system
Description
The FlexVey auger fill system allows a truly custom system to meet specific application needs. With a wide selection of basic components, and our ability to design custom solutions, you can have the most efficient and cost effective system delivering feed to your flocks for years of trouble free operation.
FlexVey offers the versatility of using single or tandem bin installations, and can provide single, double or triple systems into the house.
Whatever your fill system needs, FlexVey offers the right combination for you.
Features
Boots
For 16" Opening Bins
Injection molded for smooth feed flow
UV rated plastic for long life
Available in straight or 30 degree styles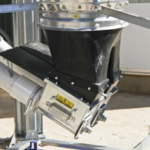 For 22" opening bins
Available in straight or 30 degree styles, single or double out
Allows individual control of each unloader
Auger & Tube
Available in 200, 300, 350 and 450 models
Hardened steel coreless auger
PVC tube with UV inhibitors specifically designed for all four models
Unloaders
Available in single or double out
Can be used for straight, straight through (tandem) or 30 degree installations
Made of galvanized steel with a UV rated ABS top for long life and weather resistance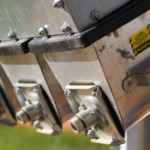 For 22" Opening Bins:
Epoxy coated s:'el
30 degree boot and unloader combination
Large opening to accommodate difficult feed
Available in single or double out styles for 200, 300 and 350
Available in single, double and triple for 450
Fits directly to 22" opening bin

Tru Torq™ Feed Weigh Scales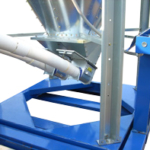 The Tru Torq™ scale employs a unique, patented Torque Bar Suspension mechanism that provides the control needed for accurate and dependable feeding programs.

The Tru Torq scale with manual beam is accurate to within +/- one tenth of one percent and allows for verification of feed delivery weight for daily usage records
The scale will handle capacities up to 10,000 lbs and meets national certification standards and is available in 4 styles:

5,000 lb
10,000lb
2,300 kg
4,600kg
Bin Scales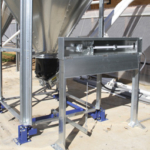 Compatible with all feeder / fill systems:

2,300 lbs
5,000 lbs
10,000 lbs
High Volume Feed System
Able to deliver up to 60,000 lbs of feed per hour
No elbows or universal connectors to wear
Trouble free chain and paddle
Unrestricted feed drops
Recirculated feed